Want an instant bin in Perth?
Don't waste time browsing around and calling up skip bin companies for quotes. Get instant skip bin price comparisons that guarantee you're getting the best price. We are industry experts, ensuring that you get the cheapest skip bins in Perth for both residential and commercial settings. No matter how many bins you need we will find you the best priced skips to deliver right to your location. Call 0410 704 294 or hire online today.
Residential skip bins
There is no job that is too big or too small for us. Whether you're clearing out your garage, pruning your backyard or decluttering your home, we can sort out your rubbish removal needs with residential skip bin hire. Garden waste, old appliances, furniture and white goods can all find a place in our bins. If you have any questions about using a skip bin, contact our customer service team who'll be happy to help.
Commercial skip bins
Regardless of why you need a commercial skip bin hire we will be able to help. Our bins are suitable for a wide range of locations including offices, restaurants, shopping centres, schools, government buildings and factories. We have bins that are perfect for one time waste removal services as well as ongoing solutions. For a professional and hassle-free solution to your business's waste issues contact us today.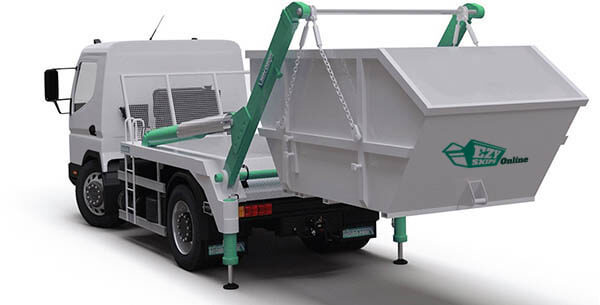 What rubbish can be put in a skip?
There are four main types of waste that can be put in the bins.
General Waste: This is a skip for relatively light waste including most of the waste from domestic and commercial settings.
Mixed Heavy Waste: this is a skip for heavier waste, typically used for construction, renovation or demolition projects.
Green Waste: This is a skip for all your organic garden waste and plant matter,
Soil/Dirt: This is a skip for 100% sand and soil only.
For more information check out our waste types page.
How to book skip bins with Ezyskips?
If you're looking to book instant bins in Perth then you won't find a faster and simpler way than with Ezyskips. Booking online is super easy by just following these simple steps.
Enter your postcode
Choose your waste type
Select your desired size
Select your delivery and pick up dates
Make a secure payment
Once completed the details of the booking will be sent to both you and the supplier. With this simple process, we can make sure that you get the best skip bin hire prices and the cheapest skip bins Perth for the least amount of hassle.
Why choose Ezyskips Online?
Our suppliers take the hassle out of rubbish removal in Perth. Our booking system makes finding instant bins in Perth easy and, with a wide range of skip bin sizes including mini skip bin hire, we are able to cater for whatever waste issue you may have.
Our suppliers are all committed to the guidelines of the National Waste Policy. All waste that we collect is sorted with the best recycling technology to ensure that as little waste as possible is actually thrown away with the majority being reused or recycled.
Skip bin hire near me
As we have a range of suppliers we can find you the cheapest skip bins in Perth for your postcode. Don't hesitate to give us a call or get a free quote online.